Are you still separating your recyclables?
5/12/2009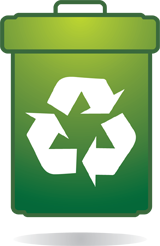 In 2007, Martin County began "Single -Stream" recycling which allows you to commingle all of your acceptable materials into one bin. There is no longer a need to separate recyclable paper from plastics, glass, aluminum or steel containers. This program results in 30% more recyclable materials which prevents these items from ending up in the landfill.
Are you aware that milk and juice cartons, food wrap, blister packages, shrink wrap, throwaway utensils and telephone books are recyclable? Also, milk, water, detergent, shampoo and bleach bottles WITHOUT their caps?
Did you know that Styrofoam, plastic bags, light bulbs and plastic that is not numbered are NOT acceptable for recycling?
For more information and complete lists of what should and cannot be recycled, click the link below.
http://www.wmmc.wm.com/press/pressreleases/FinalWasteGuide2007.pdf
From your Palm Cove 'Green' Team.