Cognoscenti- Invitation to Join
5/11/2009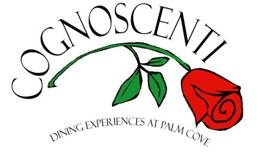 Hello Friends and neighbors,

We have set our schedule of events for Cognoscentiís second year and are accepting new members.

If you wish to join our fine dining club, please contact me by phone (220-4595) or email ([email protected]) for additional details no later than May 25th. The annual membership fee is $50.00 per adult who wishes to join. Our event average target price (all inclusive) remains at $65.00 per diner. Events begin with pre-dinner appetizers accompanied by a special cocktail, followed by sit-down dining. Previous event entrees have included Rack of Lamb, Oso Bucco, Surf and Turf among others. Events average 50 attendees.

We have also occasionally arrange for entertainment following dinners, such as a five piece string quartet. Feel free to review our photos on the website photo page.

The schedule for events is:

June 13th - Summer Celebration

August 21st

October 10th - Oktoberfest

December 5th - Home for the Holidays

February 21, 2010

April 17, 2010

Additionally for your Holiday planning, please note that we have contracted Terry Cooper to provide the entertainment for the December 5th Home for the Holidays event. Terry was a huge hit at the April Event .

Best regards,

David and Donna Lee

Tal and Marilyn Haas

Executive Chef John Carlino

From the 'messenger'- please do not reply to this email. If you want to communicate with David Lee, use the address in the email.